English spoken & Language no problem
Workshop | architectural photography
Menno van der Meer is an architectural photographer and in this interactive workshop the emphasis will be focused on the composition in which Art Nouveau architecture is portrayed, and less on the technical merits of the equipment.
Program:
- Theory
- Shooting in the city center under supervision
- Lunch or individual photography
- Discussion of own work

Who: Menno van der Meer
Where: Kazernestraat 23A,
2514 CR The Hague
(near Denneweg)
When: Fryday September 3 rd.
Time: 10:00-15:00
Maximum: 10 attendees
Cost per person: € 35,-
Order your ticket via this link or the butto below

Workshop is also given on
Thu. Sept. 3, Sat. Sept. 4 and Sun. Sept 5 (all in Dutch)
Walking tour | Art Nouveau architecture in the Zeeheldenkwartier
A surprising amount of Art Nouveau architecture can be seen in the Zeeheldenkwartier. During this walk you will be told about the history of this district and you will be pointed to many Art Nouveau facades and other details that you might otherwise miss.

Guide: Danny Versmoren
When: Fri. Sept. 3
Where: Zeeheldenkwartier
Duration: approx. 1.5 hours.
Start: 14:00 h.
Maximum 12 people. per walk
Cost per person: € 15,-
Meeting point: Piet Heinplein nb. 2,
2518 CH The Hague (at De Haagse Kinderboekhandel)
Ticket sales via this link, or the button below

This walk is also offered on: Thu. Sept. 2 Sept. at 19:00 a.m., on Sat. Sept. 4 at 14:00 p.m. and on Sun. Sept 5 at 14:00 p.m. (all in Dutch).
City Walk | Retailarchitecture in The Hague around 1900
In the second half of the 19th century, shops as we know them today developed. And the inhabitants of The Hague went shopping for the first time. Around 1900, there was an enormous increase in the number of shops, which often sold luxury products. Tour guide Jacqueline Alders will show you the beautiful buildings that the shop owners built to lure their customers. Enjoy the fashion palaces and large department stores.

Guide: Jacqueline Alders
When: Sat. Sept. 4
Where: The Hague Centre
Start: 10:00 A.M
Duration: 1,5 uur
Starting point: Lange Poten 1,
2511 CL Den Haag – hoek Spui
Kosten: € 15,- per persoon
Maximum of 12 persons per walk.
Ticket sales via this link, or the button below
English spoken & Language no problem
Music/Theatre/Literature | The Green Hour: On Oscar Wilde
Immerse yourself in the story of one of the best-loved writers in the English language!

Simon Mulder and Marcel Faber will introduce you to the Green Fairy - absinthe -, bring prose, poetry and drama by Oscar Wilde and his contemporaries, and take you on a journey through his rise and fall.

Our Poetry Bar will serve absinthe accompanied by sonnets by the English decadents.

Daan van de Velde (piano) and Anna Majchrzak (soprano) will perform English art songs.

Also, we have the very special performance of a long lost work for piano and voice on Wilde's 'Ballad of Reading Gaol'!

Sunday the 5th of September 2021 | 8 PM - 10 PM | Lacation: Pulchri Studio, Lange Voorhout 15, 2514 EA Den Haag. Ticket costs: € 15,-


Workshop | making and printing floral patterns led by Ilse Versluijs
Inspired by the floral patterns from the Art Nouveau, you will design and print a pattern yourself using a linoleum cut. You will learn how to build up a repeating pattern and how to apply this in linoleum printing. You will go home with your own printed pattern on paper.

Ilse Versluijs | Graphic Workshop
Prinsegracht 16, 2512 GA The Hague
Saturday Sept 4. | 10:00-13:00.
Maximum attandees: 6. Costs: € 45 per person, incl. coffee and tea and basic materials.
Language: NL/EN
Book via this link or the button below.
Pre-booking required!

The Grafische Werkplaats organizes on Sun. Sept 5 an other workshop: Lithography (see the program Sun. 5 Sept.)
Workshop Grafische Werkplaats | Making a lithograph together
You know those beautiful posters made by Toulouse Lautrec? They were printed lithographically. In this workshop we will tell you more about this labour-intensive but beautiful lithography technique and you will all work on a large stone. You will go home with an imprint of this stone.

Teacher: Ilse Versluijs
Where: Graphic Workshop, Prinsegracht 16, 2512 GA The Hague
When: Sun. Sept 5
Time: 13:00-16:00.
Maximum attandees: 4.
Costs: €45 per person, incl. coffee and tea and basic materials
Language: NL/EN
Book via this link or the button below.
Pre-booking required!

The Graphic Workshop organizes on Sat. 4 Sept. also a workshop designing and printing patterns using linocut (see the program left).
English spoken & Language no problem
Tram rides with old trams
'De Tramweg Stichting', working group Scheveningen was founded in 1986 and renovates and maintains several old trams. On Saturday and Sunday, the volunteers of this working group will drive car 77, which was put into use in 1905, and the 'Blue Tram' A 327 from 1913.
The route runs from Scheveningen to the center of The Hague via Statenlaan, part of Waldeck Pyrmontkade, turn left into Laan van Meerdervoort, Zoutmanstraat, Vondelstraat and Torenstraat, Grote Kerk. And in reverse order back to Scheveningen.
Driving times: 11:00 AM - 16:30 PM
There are costs associated with riding on these trams. A 'tram ticket' at € 3 per person is for sale on the tram.

Because of Corona measures, wearing a mouth cap and sitting in the tram is obligated.

Tramweg Foundation Scheveningen Working Group |
Exhibition | De Haagse Salon Art Nouveau + Art Deco art
De Haagse Salon was founded in 2015 by four art dealers specialized in Art Nouveau and Art Deco. You are most welcome at the Salon to marvel at the beautiful Applied Art (glass art, furniture, ceramics and printed matter).
Free walk-in

Art dealership De Haagse Salon
Laan van Meerdervoort 41, 2517 AD The Hague |

Thuesday and Fryday: 12:00-18:00
Saterday and Sunday: 11:00-18:00
Exhibition | The panels of Pavilion of Delft Industry
Come and see and hear the special story about the 'Pavilion of Delft Industry', with a beautiful connection with The Hague.
All the ingredients for a fascinating story are present: an important Delft entrepreneur, a traveling sales exhibition that also visits the Malieveld in The Hague, Art Nouveau / Jugenstil decorations on a large scale, a well-known painting company from The Hague and a contractor from The Hague. Everything took place around 1900. And after more than 100 years, the decorations appear to still exist.

Free entrance

Where: Korte Poten 21, The Hague
When: Thu. 2 to Sun. Sept 5
Opening time: 10:30 am - 5:00 pm

This exhibition was made possible thanks to: Van Marken Museum Delft Foundation and Groenewegen Vastgoedadvies The Hague
English spoken & Language no problem
Walk-in days | Stained glass
Restoration, renovation or the making of a new stained glass window or door, that is what Cora and Wendy from the glass studio Het Ruijtenhuis are doing on a daily basis. During the Walk-in days at this glass workshop, work continues as usual. The ladies will not give a demonstration, but you are welcome to come and watch and ask questions.

Who: Cora and Wendy / 'Glas atelier Het Ruijtenhuis'
Where: Boekhorststraat 189, 2512 CP The Hague
When: Thu. 2 and Fri. 3 Sept.: 13:00-17:00 PM.
Sat. Sept. 4: 10:00 AM -17:00 PM.
Photo contest on Instagram about Art Nouveau architecture in The Hague: #anf2021foto
The Art Nouveau Festijn is organizing a photo contest on Instagram again!!
Post your best photo with the subject: Art Nouveau/Jugendstil architecture in The Hague.
The conditions are simple:
1. Post a photo you took yourself on Instagram
2. The subject must be about Art Nouveau/Jugendstil architecture in The Hague
3. Tag the photo with: #anf2021foto
4. State exactly where the photo was taken
5. Only one photo per participant may be submitted
6. Photos can be posted from now until Sunday, September 5, 2021
After that, a jury of 3 people (Menno van der Meer, architecture photographer, Kim Andriessen, journalist and cross-media editor at the weekly newspaper Den Haag Centraal, and Rob van Kan from the Art Nouveau Festijn) will judge the 10 best entries. The results will be announced as soon as possible after 5 September.
The 10 best entries will be exhibited in large format at the fourth edition of the Art Nouveau Festijn, The Hague around 1900, next year.
The photos remain of course the property of the participant. By participating, you agree to the publication of your photo on the social media, website, etc. of the Art Nouveau Festijn.
Exhibition | Photo contest winners #anf2020foto
Before and during the 2nd edition of the Art Nouveau Festijn we organized a photo contest on Instagram. The subject was Art Nouveau architecture in The Hague. Six beautiful photos of the finalists will be exhibited during the Festijn.
Come and see Art Nouveau architecture from these Instagrammers in The Hague.

Free entrance

Where: Korte Poten 21, The Hague
When: Thu. 2 to Sun. Sept 5
Opening time: 10:30 am - 5:00 pm

Would you like to participate yourself: see the conditions in the column on the left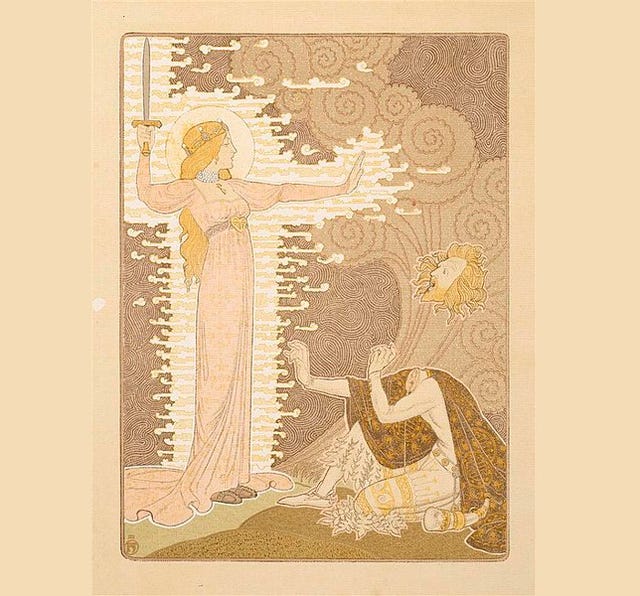 Exhibition | Henricus - The Ballad of Lord Halewine - 100th anniversary
We are celebrating the 100th anniversary of the death of The Hague artist Henricus, the maker of the beautiful lithograph series 'Dat Lidekin van Here Halewijn' about the medieval Ballad of Lord Halewine, in a beautiful Art Nouveau style, with a modest exhibition. In the exhibition space of the Art Nouveau Festijn, next to the panels of the Paviljoen der Delftse Nijverheid, Simon Mulder will exhibit his collection of prints from around 1900 on the theme of 'men beheaded by women' - a special subject in literature at the time! You can see Beardsley's famous Salome prints in the first uncensored edition - in this scandalous play by Oscar Wilde, this princess was presented with the head of John the Baptist on a silver platter - and a postcard depicting the Biblical heroine Judith who killed King Holofernes; and of course a selection from the beautiful lithographs by Henricus.

Free entrance

Where: Korte Poten 21, The Hague
When: Thu. Sept. 2nd to Sun. Sept 5th
Opening time: 10:30 am - 5:00 pm

This exhibition was made possible thanks to: Groenewegen Vastgoedadvies The Hague
Back to the all program pages (in Dutch)